Your weapon is only as good as any of your magazines. Buying magazines with the highest quality should be a top priority of all gun owners to ensure maximum performance, reliability, and longevity of their firearms. To help you choose the best mag, read this quick rundown of three 458 SOCOM magazines.
C Products Defense 10 Round .458 Socom Detachable Magazine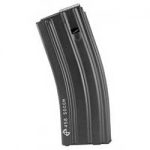 1. CMMG - AR-15 MKW-15 Magazine .458 Socom
Designed to feed 458 SOCOM and is based on the Lancer l5 Advanced Warfighter Magazine, this modified lancer 458 SOCOM magazine can be used for MKV-15. Its round capacity is 10 but can hold 11 if physically forced. It can also be fitted with thirty 5.56 NATO calibers. It is impact-resistant due to its polymer-made body and steel feed lips. The magazine's exterior has a combination of ribs and stippling that ensures a secure grip even when hands are wet or gloved. The magazine catch and spring are made of stainless steel making corrosion resistance its plus advantage.
2. D&H Industries, Inc. Magazine
If exclusivity drives your purchases, the D&H mag is suitable for you. This magazine is manufactured in the USA and a trusted ally of the military around the globe. It was designed exclusively for 458 SOCOM and is available in 10-rounds and 4-rounds. The material is built of USGI-styled aluminum, which makes it durable. It is heat-treated and hard coat anodized to prevent rusting and corrosion. It comes with a black Teflon finish. The mag's external furrows reinforce a good grip. Moreover, it has a big bore follower design to ensure reliable feeding of big 458 SOCOM ammo.
3. C Products Defense 10 Round .458 Socom Detachable Magazine
This enhanced detachable magazine from the U.S.A was created to address complaints of 5.56 mag that wouldn't always work well with 458 SOCOM bullets. It is one of the most heavy-duty magazines that is built out of stainless steel, which makes it very durable and rust-resistant. It comes with a black finish. The spring is made of stainless steel and is very strong, making it less prone to spring compression and fatigue. This mag wouldn't jam even when using ammo covered with dirt. It fits well with the DURAMAG AR-15 rifle. It feeds the 458 round much better than the standard 5.56 round.

Since 458 mags are not as common as other magazines, they are generally more expensive. The first magazine in our list above is the most pricey. Buying C Products magazines is a reasonable option for those with budget constraints. While using aftermarket magazines is a practical and cheaper option, they aren't on par with the best features and reliability of 458 mags.
For other practical ammo options, check out this 6.5 Grendel vs 6.5 Creedmoor article here. 
458 SOCOM Magazines Capacity
The three magazines have a round capacity of 10. The #1 and #2 magazines can also hold 5.56 NATO ammo. In terms of round capacity, the former can hold more 5.56 rounds than the latter. D&H company has 4-round magazines which are rather plenty for suppressing a single assailant. Some rifle users modified their 458 mags to improve the magazine's round seating capacity with other brands.
One significant thing to consider in buying a magazine is grip texture.
The first mag we reviewed has external surfaces- ribs and stippling, which ensure grip stability and non-slippage.
As such, it is a good mag to use with your guns, especially during rainy seasons.
Polymer magazines such as those created by Lancer and Magpul are as durable as metals.
The first mag on our review has the lightest weight among the three due to its polymer body construction and steel springs. It is the best mag for wild animal hunting, or sporting ranges as its weight is less likely to limit your mobility. Furthermore, a polymer mag is more impact-resistant than an aluminum mag.
Related Posts: 
458 mags are created to address problems related to feeding and compatibility with non-SOCOM rifles. Additionally, they are designed to upgrade the styling of classic military-issued magazines and to maximize round capacity as well as shooting experience without violating the "anti-high capacity mags" restriction in several states and jurisdictions.
458 SOCOM Magazine Durability
There's a variety of options in the market for a mag. Still, the top three mags we outlined here have the most functional materials and best levels of durability and resistance to corrosive agents.
The magazine body of the first mag is solid and can withstand any beating that would generally destroy aluminum mags. It also has the highest level of durability despite having the lowest weight due to its components and styling.
Any gun owner should evaluate the quality of their mag followers and springs. A 458 SOCOM magazine follower has an anti-tilt design, and the springs are made of steel, which can facilitate proper feeding of the rounds from the magazine into the weapon. These features prevent wearing down of mags after extended use.
Our choice for the best 458 SOCOM Mag is…
Based on our reviews, CMMG MKW-15 458 SOCOM Magazine is the best mag for your AR-15 and bushmaster rifles. Compatibility with other kinds of ammunition is often the primary problem raised against this product. However, modifications in the way the feed lips hold non-458 SOCOM ammo can address this issue.
This mag can function reasonably well with ammunition other than the 458 SOCOM. Overall, it outperforms the other two models in terms of adjustability, durability, and reliability. Its price is steep, but you will get your money's worth.
Upgrade your 6.5 Creedmoor by checking out our review on the best 6.5 Creedmoor muzzle brakes here.
Latest posts by Alfred Mendoza
(see all)